Tracfone Phone Deals Compared with Net10 Phone Deals
Tracfone Phone deals come in two different versions depending on your Zip Code. If you live in an area that GSM phones work then you will be offered GSM phones that will work on both the AT&T and T-Mobile networks. Tracfone Phones are also available in areas that only have CDMA coverage and those phones will work on the Verizon, Alltel and US Cell networks. Tracfone phone deals and Net10 deals available are different depending upon if you have CDMA or GSM service in your zip code.
I Updated this Tracfone Phone Deals page November 18,2008

Tracfone GSM Phone Deals
The latest Tracfone Phone Deals if you are in GSM (At&t orT-Mobile) area. If the Motorola W376g is the first option when you put in your zip code you are in GSM coverage area.

My first choice from this page is the "Ultimate Bundle" that includes the LG 225 andthe One year 400 minute card for $100. Using a Bonus code you will be able to get an extra 200 minutes and since this phone is a DMFL phone you will get 800 minutes from the card. This will give you over a year of service and 1000 minutes for $100.
Buy an LG 225 phone at TracFone and save $50, plus double minutes and free shipping!??
My second GSM Tracfone Phone deal would be the "Motorola W370 with the 450 minutecard for $80". This will give you 900 minutes because the W370 is a DMFL phone. Don't forget to use a bonus code when you add this card. You get 3 months service with the card and 2 months when you activate the phone. For $80 you will get 900 minutes and 5 months service in the
TracFone Motorola W370 with the 450 minute airtime card
.
My choice in a Tracfone phone when price doesn't matter would be the LG 600g or the Motorola W376. They cost quite a bit more because they currently are not available in a Tracfone special package. I also like the W376, LG 225, W370, Lg 3280, Lg 200c.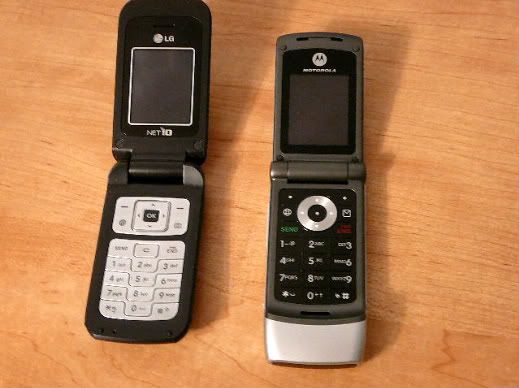 LG 600 next to the Motorola W376 Prepaid Cell Phones
Ido not recommend you purchase the W175, c139, w260, c261, v170, or the c139 one year card, or c261 double one year card deals. With my Recommended dealsyou get better phones and more minutes for the same or less money. I do not recommend adding minutes to a
TracFone
phone that does not have DMFL. DMFLis included on the w370, w376, lg 600, and LG 225.
If you want the
TracFone Motorola W376
or the Lg 600 I would purchase it and also purchase the W370 with the 450 minute card. If you add the W370 with the 450 minute card you will end up with 900 minutes to add to your phone. Also the W370 and W376 both use the same battery and charger. You would then have a spare battery for your W376 and 900 minutes for your phone. Tracfone Phone Deals It is really handy to have a spare charger to leave at work or use with a converter in your car.
TracFone
Bonus codes 51729 for the one year card and 200 extra minutes. 55346 for the doubler one year card.
Best Tracfone GSM Phone Deal - 1120 minutes and 14 months and Free Phone - $100

I Recently (November 2008) bought the Tracfone LG 225 with one year card 400 minute card for a friend for $100 from the TracFone.com website. Three days later the phone showed up at my door. I activated the phone and received 20 minutes and two months at the website. Once the phone was active (it took less than five minutes and I got a message on the phone with her new phone number), I then added the One year 400 minute card and used Bonus Code 55118 again from the website. I received 400 minutes + 400 minutes from DMFL and 300 minutes from the bonus code. This took about 10 minutes total. I like to actvate the phone and make sure it is working before adding a Tracfone card, that way if there is a problem with the phone or with the activation my card will not be tied up in the transaction. I recommend only doing one thing at a time, Only add one card and bonus code at a time, then wait until the transaction shows up on your phone before you use the phone or add another card. Here is a link to get Bonus Codes Tracfone Phone Deals.

This turned out to be a great TracFone Phone deal **1100+ minutes, one of the best Tracfones, DMFL, and 14 months of service for $100. ** The Lg 225 with One Year Card and 400 minutes is the Best Tracfone Deal Available. Two years ago to get a comparable deal you would have spent over $300.

Net10 GSM Phone deals


Again my choice in phones would be the Lg 600 or the W375 if you willing to spend $20 or $30 to get a nicer phone.
The deals of Net10 are different than Tracfone because all the phonescome with 300 minutes and two months service. This means when comparing a
Net10
phone to a
TracFone phone deal
you need to subtract about $30 from the price of the Net10 phone.
The best
Net10 Phone Deal
is the Nokia 1600 which comeswith a 300 minute phone card for $30. You get 600 minutes and 120 daysservice and this phone for $30. For a basic phone this is the best dealin Prepaid cellular. The next best Net10 Phone deal is the Motorola V176 flipphone with a 600 minute card for $60. You get 900 minutes and 180 daysservice for $60 with a nice little folding phone.
If you purchase any Net10 phone be sure to buy one of the $30 Nokia1600 with minute card also. Then Activate the 1600 and you can move the minutes toyour other Net10 phone. Net10 normally will not move the activationtime but they will move the minutes from the 1600. I have purchased afew of these deals and activated the phones and moved the minutes to myregular phone. I have gotten over 1500 free
Net10 Minutes
transfered onto my phone this way. Tracfone Phone deals.
The battle of the deals between
Net10
and
TracFone
. Tracfone phone deals always have the edge in the cheapest cost for service because you get 90 days of service with most Tracfone cards. Usuallythe minutes are cheaper with Net10. DMFL with Tracfone equalizes the minute prices for Tracfone. The online 450/900 minute dealfrom Tracfone means you can get 8.8 cent minutes all the time fromTracfone.
I just bought the
TracFone LG cg225
one year deal for $100 for a friend of mine. She got a brand new phone with DMFL. With this deal I used a bonus code while activating and got 1020 minutes and 14 months ofservice. Great deal for $100.
On a tighter budget I would purchase the $60 V176 from
Net10
for920 minutes and 5 months service. I prefer to use folding phones. Thebest bang for your bucks is the Net10 Nokia 1600 for $30 and 600 minutes and4 months.
On a very tight budget where I am after the most minutes, the best deal is two Net10 Nokia 1600 with $30 phone card deals. If you purchase two at a time you will not have to pay the $4.95 shipping charge.