Straight Talk Unlimited
Straight Talk Unlimited is one of the two plans offered by Straight Talk Wireless.
The $45 per Month Unlimited Plan has just been released. You get Unlimited minutes, Unlimited text messages and Unlimited data transfer to your phone. You cannot use your phone as a modem for your computer with the Straight Talk plan.
Who is Straight Talk Wireless?
Straight Talk Wireless is a new Prepaid Wireless Cell phone company that is a joint venture of Walmart, Verizon Wireless and Tracfone. Walmart is providing the marketing, Tracfone is providing the prepaid phone software and the customer service and Verizon Wireless is providing the cell phone network.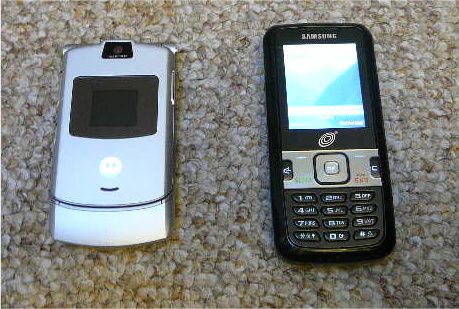 Straight Talk Wireless
Motorola Razr and Samsung R451c
What is Straight Talk "All you Need"?
All you Need is a different plan that Straight Talk offers. It is $30 a month and it includes 1000 minutes, 1,000 text messages, and 30 meg of data transfer. This is the lowest price you will find on 1,000 minutes of prepaid cell minutes. If you are not using over 1,000 minutes a month and you are spending more than $30 a month this could be a better plan for you than the Unlimited plan.
Where will Straight Talk Unlimited Work?
Since Verizon Wireless is part of the partnership the Verizon cell tower network carries all Straight talk calls. Anywhere Verizon service works well Straight talk should work. Verizon has one of the largest Cell Tower networks in the US.
How does Straight Talk Work?
It is very easy. You purchase a Straight Talk Phone---you can only use Straight Talk Phones--and a Straight Talk Phone Card. You will scratch the seal (much like a lottery card) and find a 15 digit card number. In the menu you will click on "Prepaid" and then "Add Airtime." Then you put in the 15 digit number and your phone will be active for another month. On the Display your phone will show you how many days you have left before you need to add another phone card. If you are on the "All you Need" plan the number of minutes you have left also will show on your display.
Straight Talk Roll Over Warning!!
Straight Talk minutes and time do not Roll Over. If you have ten days left on your service and you add a 30 day card you will only have 30 days of service on your phone.
The Straight Talk Phones
Lg 220c Basic Clam Shell Phone with Bluetooth $40
LG 290c Basic Slider Camera Phone with Bluetooth $80
Motorola W375 Clam Shell Camera Bluetooth Phone $80
From the simple and bulletproof LG100c and LG 200c to the New Samsung Finesse, Straight Talk has a nice variety of prepaid phones that all use the Verizon Network.
Where Can I purchase Straight Talk Unlimited Phones and Phone Cards?They are available at Walmart and Online at Straight Talk.com
You will always get the best variety to choose from at Straight Talk.com
Check out Straight Talk Unlimited Wireless
Check out Straight Talk FAQs
Straight Talk
Unlimited