NEW Tracfone Camera Phone from Motorola.
The new Tracfone Camera Phone from Motorola is now available. The new C261 from Tracfone is a nice full feature GSM one rate phone. At this time transfer of photos only works on the Cingular network. If Cingular is available in your area this phone will work.
Tracfone Camera Phone Photo Charges
The charges to send a picture message are simple. Trac Phone charges 1 unit plus .5 units per minute of access time to send the picture.

Top left Motorola W370, Tracfone Lg 3280, Lg 200c,
Bottom Left Motorola Razr, Motorola C261 Camera Phone.

Motorola C261 Photo Storage
My Tracfone camera phone has room for about 40 pictures. There are some pictures that are hardwired into the storage that came with the phone that I haven't been able to delete. There is not a port on my Motorla C261 to download pictures to my computer. You can set up a free account at www.Photobucket.com and send pictures there. Then you can load them on your computer. Photobucket allows you to store a couple of hundred pictures and access them for free.
The Tracfone Motorola C261 has Web Access.
The unit charges per minute of web access is .5 per minute with a miniumum of one minute. I have found minutes go by quickly when checking your webmail. This is handy if you are desperate but expensive.
Tracfone Motorola C261 Text Messaging
The new text messaging charge per text is .3 units. This is a significant decrease from the .5 unit charge.
The C261 is a One Rate GSM phone.
All calls local, long distance and roaming are one rate ( 1 unit per minute ) with the GSM Motorola Track Phone C261. International calling at one unit is available to many countries also. Your Tracfone must be set up to call internationally at the Track Phone website or by phone.
Tracfone LG CG225 Camera Phone
Tracfone has just released the new folding LG 225 camera phone also. This phone is only available in areas where AT&T (formerly Cingular) has service. This is a higher quality phone than Tracfone has previously offered. This phone comes with the Tracfone Double Minute card already installed. This is one of the best values in the Tracfone cell phone line.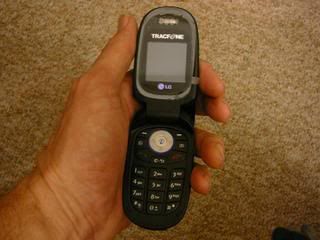 Picture of the LG CG 225 Folding Camera phone.
C261 Super Sale
Tracfone has a promotion on the Camera phone for a short time
Buy a Double Minute Prepaid Plan Card, get 200 bonus minutes and a FREE Motorola C261 Tracfone Camera Phone!
Motorola C261 Features
More Features include Color display, built-in VGA camera, Handsfree speaker phone, voice mail, call waiting, caller IDmultimedia games, screen savers, wallpapers, phonebook with up to 250 entries, Multilingual (English, Spanish, French), Downloadable ringtones, Alarm clock, Nice Lightweight it weighs just 3.06 ounces.
Motorola W375 Camera Phone
The newest camera phone from NET10 -sister company of Tracfone- is the W375. This phone will probably be offered from Tracfone also. This phone is identical to the Motorola W370 with the addition of the camera.
Get a Motorola W375 phone + 300 minutes, Save up to $40!

This is a picture of the Motorola W375 Camera phone from Net10.
Motorola W376 Camera phone
The W376g is the latest addition to the Tracfone Camera phone lineup. This phone comes with DMFL and is the first Tracfone to come with Bluetooth. The W376 looks and feels just like the Motorola W370.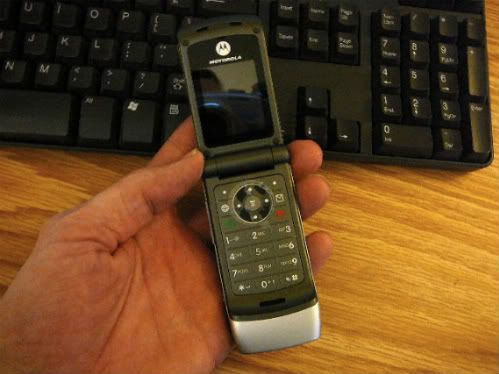 Motorola W370 from Tracfone.