Tracfone Problems, How to deal with Tracfone Customer Service
Tracfone Problems and how to best deal with Track Phone Customer Service.
First I always write down the Serial number of the phone I'm working on (big enough so I can read it). I also write down the pin number and Bonus code if I'm using one.
The key to get your Tracfone Complaint taken care of is to be patient and firm. Do not lose your temper, remember the Tracphone Customer Service people would like to cure your problem if they can.
With my Tracfone pay as you go cell phone battery charged up---or plugged in and my numbers I will sit down in front of the TV to relax and be entertained and call Tracfone from a land line. The Tracfone Customer Service number is 1-800-867-7183. You are now ready to try to solve your Tracfone Problems.
Call and try to get your problem solved. If you can't get it taken care of ask to speak to a supervisor. You will be put on hold several times. Patience. Keep track of how long you have spent trying to get a resolution. Remember Firm Persistance.
Sometimes you will get bumped off the phone (accidentally hung up on) and you will have to call back in again. Don't get mad have patience. Keep track.
When you finally get your problem taken care of tell them how patient you have been, how long it has taken, and how many times you have been hung up on. Then ask for some free minutes to pay you back. Often they will give you a code to enter into your phone for extra minutes and more access time. Normally this has been 20 free minutes and/or 60 days access.
The key words, Patience, Persistance. Let me remind you that the Customer service people are trying to be helpful.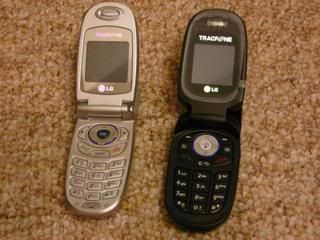 These pictures show the Tracfone LG 3280 Cdma phone and the Lg CG 225. These are two of the finest tracfones offered.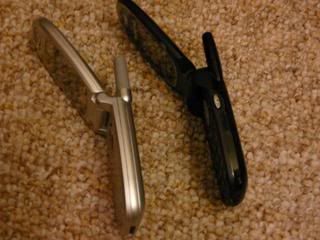 Tracfone Problems link to Compare-Prepaid-Cell-Phone-Blog
All the latest updates and news on Cell Phones.


Outstanding Tracfone Customer Service
I have a true story of my Tracfone problems. I was unable to add refer-a-friend minutes to one of my phones. I tried on the phone and it said invalid PIN number or something like that. I tried online with the same results. While I was watching football one Sunday I decided to try to get the minutes. First off I got my ESN (Tracfone Serial number), and the bonus minute pin number in front of me. I called Tracfone customer service and spoke to someone. They put me on hold 3 times and then said they couldn't get the minutes for my phone. I asked to talk to their supervisor. I got cut off. I called back and went through the same experience. I got cut off again. It must be the terrible phone lines going to Bolivia or Columbia---lol---. I persisted. This time I was able to talk to a supervisor. I explained that I had had trouble and the whole story. She was nice and apologetic. She said she would get the minutes on my phone for me. She tried but it didn't work. She said to call back. It was obvious she wanted to solve my Tracfone Problems. A few days later I was activating another phone through the website. I signed into my tracfone customer account and activated the phone. Instead of the 20 minutes for online activating I got 180 minutes. She had put on my account that Tracfone owed me the minutes and the next time I signed in I got them.
Firm Persistance Cures Tracfone Problems
I call it
Firm Persistance
. I never got mad, I didn't whine(much), I was always nice but I knew what I wanted---Minutes that were owed to me and some free minutes for my time.
This is a great reason to register your phone and email with Tracfone on their website. Good luck and Don't Complain---Persist and get what you want fairly. This will keep your blood preasure down also.


Check out the New Tracfone Motorola W370 Prepaid Cell Phone.


Normally you will have more
Tracfone
models to choose from and get the best deal if you buy online from the company website.