Is the Tracfone Nokia 1100 Cell Phone a Good Phone?
The Tracfone Nokia 1100 is great little GSM Phone. It is small enough to fit in your pocket. Very light with a long battery life (up to 16 days between charges).
The Tracfone Nokia 1100 is "Single Rate" Phone
Single rate phones for Tracfone charge one rate for everything. No roaming charges, no long distance calls, even International Phone Calls on your Tracfone are the same rate. Most of the GSM Tracfones are "Single Rate". Currently the only "Single Rate" CDMA phone is the LG 3280.
Net 10 Nokia 1100 GSM phone with 300 Free minutes available at Net10.com.
Free Flashlight Included
The Nokia 1100 has a sweet little built in flashlight. This is a great feature. I have used the flashlight on my Nokia 2126 (nearly the same phone just a CDMA model) a ton. If you have a flashlight in your pocket you will be amazed how often you use it.
Tracfone Nokia 1100 available now at Tracfone.com.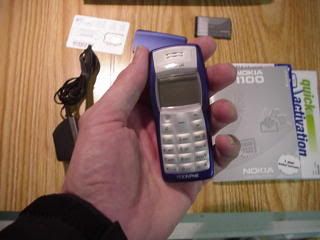 Keyboard Lock on a Tracfone Nokia 1100
A feature I have used a lot on my Candybar style phones is the keyboard lock. This is not a security issue, the keyboard lock allows you to put your phone in your pocket, purse or the glovebox of your car and if the keys get bounced it will not accidentally dial out.
To Set Your Keyboard Lock push the top left button on your keyboard and then the bottom left. Your screen will then say "Keys locked". Now your phone won't dial out. You can answer the phone while it is locked by pushing one of the keys.
To Unlock your Keys just push the same buttons you did to lock it.
Free Incoming Text Messages
This is one of the best features on the Tracfone Nokia 1100. Free incoming text messages is a real plus along with the .3 units per sent text message. Most of the CDMA and all the older Tracfones charge both receiving and sending and many of them charge .5 units per Text message.
Texting is a Very Inexpensive way to communicate with a Tracfone. The nice thing about prepaid is if your child does get a bit out of hand with their text messages they know exactly what it is costing them(my son one month had over 3000 text messages luckily he was on an unlimited texting plan with Verizon Wireless).
Nokia 1100 SIM Card
The Nokia 1100 comes with a SIM card that mates to your phone. You will not be able to move this Sim card to another phone once you have activated the Tracfone Service on your phone. Most Sim cards can be moved from phone to phone. This is not the way the Tracfone Sim Cards work (this is also true of the Net10 Sim cards). Once activated the Tracfone Sim cards will only work with the phone they were activated with.
Net10 sim Cards will not work in Tracfones and Tracfone Sim cards will not work in Net10 phones.
The Nokia 1100 is a very popular prepaid cell phone. Tracfone, Net 10, 7-Eleven Speak out are just a few of the prepaid companies using the GSM Nokia 1100.
Search My Website or the Web