Tracfone-Promo-Codes and How to find them
I have a couple of ways for finding Tracfone-Promo-Codes. First I have registered my Tracfone Serial number and my email address with Tracfone. I did this when I joined the Tracfone Insider. The Tracfone insider is a once a month email from Tracfone that often has Tracfone-Promo-Codes in it.



I always check Tracfone Bonus Codes, in fact anytime I am putting minutes on my Track Phone I will have this page in front of me on my computer so if one promo code doesn't work I can try the next one.
How to Use Tracfone-Promo-Codes
You can add Aitime over a landline. This used to be my preferred way to add Tracfone-Promo-Codes but now to get through the Tracfone Customer Service phone system it just takes too long.
I Write down my Tracfone ESN (Serial Number) on the back of a business card with the Tracfone Customer service number (1-800-867-7183) and my Phone's number so I can easily find the numbers without having to fumble through the menu on my Tracfone.
"Add airtime from the Phone
With all the newer Digital Tracfones you can add Tracfone Airtime from the Prepaid Menu. Click on Menu, click on Prepaid, Scroll to add airtime and click, On some phones you will add the Promotional code right after the 15 digit PIN number from your card and on some phones it will ask you after you have put in the PIN if you have a bonus code.
Add airtime from your Computer
I have found this to be the best way for me to add airtime. Go to
Tracfone.com
and click on the add/buy airtime button on the top and Tracfone will walk you through it. Remember to have the
Tracfone Bonus Codes
page up so you can try different bonus codes if you need to.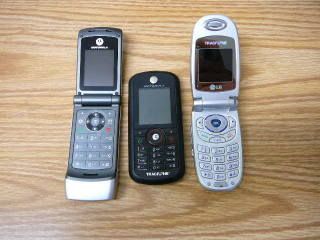 The New Tracfone Motorola W370 Cell phone on the left, the Moto C261 Camera Phone for Tracfone in the middle and the LG 3280 CDMA flip Phone on the right. **5/25/2008** 59753 for 30 minutes on 60 minute or larger card
53322--60 min on 60 minute+ card worked 5/27/2008

**2/20/08 update**** 51511 for 80 minutes on 120 minute+ card
***February 2008 Update**** 60 Minute Card or higher for Extra Minutes
51283--60 min on 60 minute+ card worked 1/15/200853322--60 min on 60 minute+ card worked 2/5/200858287--60 min on 60 minute+ card worked 2/7/200850722--60 min on 60 minute+ card worked 2/10/2008
51992--20 min on 60 minute- card worked 2/1/2008
50566--80 min on 120+ min card worked 1/23/200851151--80 min on 120+ min card worked 1/23/2008
54969--100 min on 200 minute card worked 1/15/2008
52267--200 min on 1yr double minute card 1/1/2008
51792--50 minutes when adding a double minute card 51732--50 minutes when adding a double minute card
52241 $10 off a Double minute card from Tracfone Website
57455--50 minute Plan 1/2 off first month44424--Free shipping from the website worked 2/1/2008
50900--200 extra minutes on a One year card worked 2/15/2007
****Feb 2008****


44414 free shipping code for website, this should work when you purchase from the website.
Buy a phone and use Tracfone-Promo-Codes at Tracfone.com.
NET10 Minutes are 10 cents all the time. Net10 and Tracfone are the same company with different Cell phone rates. Get a Motorola phone + 300 minutes for just $49.99 from NET10.com. Save $40!