Tracfone LG 225 Camera Phone Review
The New Tracfone LG 225 is the best new GSM Camera phone in the Tracfone lineup.

Currently the LG cg225 comes with double minutes for life when you activate it. Normally the double minutes for life card from Tracfone Prepaid costs $50.
This makes the $39.95 price of the Tracfone LG 225 a real bargain. Figuring the Double minute card the $39.95 for this pay as you go Tracfone Camera phone is great. This is a single rate phone meaning it will cost you one unit for any call, no long distance, no roaming charges, and you can even call Internationally with this phone for only one unit per minute.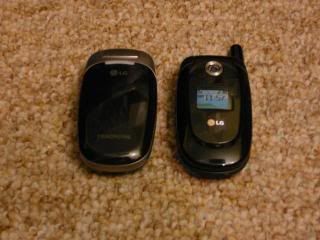 This picture shows the Tracfone LG 200c on the left and the LG 225 Camera Phone on the right.
Do not Buy the LG225?
The
Tracfone Ultimate Bundle
that includes a New Lg 225 and a one year card with 400/800 minutes is a much better deal. If you buy the phone you will have to put minutes on it. For $60 more than buying just the phone for the
"Ultimate Bundle"
you get 1000 or 1100 minutes with a bonus code. Since the phone comes with Unlimited DMFL you will get 800 minutes from the One Year Card. This gets you one of the nicest Tracfones and 1000+ minutes and one year of service for $100.
Buy the Ultimate Bundle including an LG 225 phone, a One Year 400/800 minute card, plus double minutes and free shipping at Tracfone!
Tracfone Texting with the LG 225
The texting on this phone will cost .3 units to receive and .3 units to send.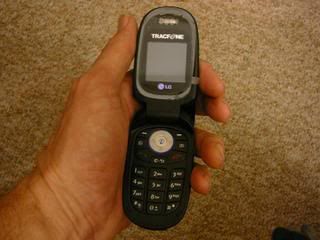 The LG CG225 Prepaid Cell Phone from Tracfone and Net10 Wireless.
There are several advantages to the Lg 225.
It is a flip phone which allows you to carry your phone in your pocket or purse without accidentally dialing.
This phone also has two displays. One of the displays will show even when the phone is folded so you can check the time or see who is calling without opening your phone.
The Camera option allows you to take pictures and store them in your phone. You can send pictures to other phones or to your computer but you cannot download them straight to your computer because the phone does not have an accessible port.
Either English or Spanish language.
Includes a Hands free speaker phone.
And don't forget this phone comes with Double minutes for life, so any Tracfone Prepaid Cell phone card you add will automatically be doubled.
This is a GSM phone which means it will work in your area if you have coverage by AT&T (Cingular) or T-mobile.





Buy a Tracfone LG 225 and get double minutes for the life of the phone!

If you live where Verizon is the best cell phone coverage look into the New Tracfone LG 200c Prepaid Cell Phone.

NET10 LG 225

Net 10 is offering the LG 225 Camera phone also. Tracfone and NET are the same company with different phone rates. If you use a lot of minutes the NET10 service can be less expensive than the Tracfone service. Since the Tracfone LG 225 comes with the Tracfone Double Minute Card the rates are pretty close to the same.





LG 225 Roaming

There are no roaming charges on your Net10 or Tracfone LG 225 in the United States. This is one of the main reasons that NET10 and Tracfone are the best Prepaid phones. Most of the other prepaid phones will not roam this includes T-Mobile, Alltel, Verizon, AT&T.





LG CG225 Battery and Sim Card

Since the LG 225 is a GSM phone it comes with a SIM card. Mine came already installed. The Battery is a Lithium Ion 3.7v LGTL-GKP-1000.


My Mothers Cell Phone
My Mothers Cell Phone for years was an Alltel contract Phone. I just gave her a new Prepaid Cell Phone.

The Tracfone LG 225 is the First Camera Flip Phone.
The New Tracfone LG 225 Camera Phone comes with Double minutes for life. Is this the best Tracfone Prepaid Cell Phone for You?

Compare-Prepaid-Cell-Phone-Blog
Compare-Prepaid-Cell-Phone-Blog, Tracfone prepaid Cell, T-Mobile Prepaid cell, Net10 cellular, the latest news on Prepaid cell phones.

Tracfone Phone Deals Compared
Allthe latest Tracfone Phone Deals Compared. GSM Tracfone and Net10 phonedeals and CDMA Tracfone and Net10 Phone deals compared. What is and Howto get the best deal on a Tracfone or Net10 Phone.