Who has the Best Prepaid-Yearly-Cell Phone Plan?
The Prepaid-Yearly-Cell Phone plans are great if you want to have service for a year and not worry about adding cards or minutes by a certain date.
Several companies offer Annual Prepaid Cell plans.
Tracfone offers two different one year plans.
The Double Minute Prepaid Yearly Plan doubles your minutes on any card you put into your phone, comes with 800 minutes, and one year of continuous service. As of Sept 2008 this plan is $129.95. The minutes on this card have already been doubled. Usually you can purchase this card and get a free phone from the Tracfone web site.
Net10 Wireless: Always 10 Cents--Local, Long Distance or Roaming
You can often get a free phone or deeply discounted phone if you buy these together from the Tracfone web site. Buy a LG 225 phone at TracFone and get $30 off, plus double minutes, an accessory kit and free shipping!
.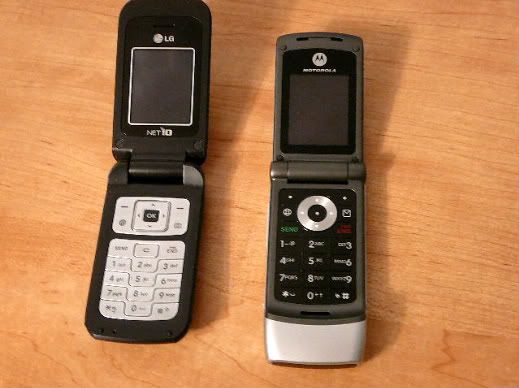 Net10 LG 600g Bluetooth and Motorola W376 Blutooth from Tracfone.
The Tracfone One Year Prepaid Wireless Service Card is currently $99 and it comes with 400 Minutes. Buy this card from Tracfone Web Site
and you can usually get a free phone with the card.
Net10 Yearly Service
Net10 offers a great yearly service option. For $200 you get one year of service and 2000 minutes. The "
Net10 Website
".
has several different phones available also.
My Mother's Prepaid Phone
My Mother (she is 82 and will ring my neck if she reads this) uses about 100 minutes per month. She was on a contract phone from Alltel and was paying $40 a month. She hated that she wasn't using her minutes.
I bought her a Net10 LG 200c which roams on both the Alltel and Verizon networks for 10 cents a minute. I did not buy her the yearly card because I want to see if she will like the phone. Also it is so easy for her to add minutes to the Net10 phone by just adding a card every couple of months.
The simplicity of getting 10 cent minutes without using bonus codes is why I bought her the Net10 phone over the Tracfone.
The Free Roaming ability is why I bought the Net10 phone over the T-Mobile phone. T-Mobile prepaid phones do not allow roaming.
The Net10 plan of adding $30 cards every two months will cost $180 per year. You can stack on a couple of cards and the activation time and the minutes will stack on and roll over with Net10 and Tracfone.
Net10 Wireless: Always 10 Cents--Local, Long Distance or Roaming
T-Mobile
The T-Mobile Prepaid-Yearly-Cell
comes with 1000 minutes for $100. The purchase price of the phone will be extra. T-Mobile has some of the nicest phones available for prepaid. You can use almost any unlocked GSM phone with the T-Mobile prepaid plan. If you have an old T-Mobile contract phone this will work fine for prepaid.
The Best Inexpensive Yearly Plan
The Best Inexpensive Prepaid-Yearly-Cell Phone plan
in my book goes to Tracfone Prepaid. Only buy a Tracfone with Double Minutes for Life included. The best way to purchase this plan is to go to the website and search for a new phone. Often in the "Purchase Phone" section there will be a Tracfone that will come with DMFL and a one year card for $100. As I write this you can get the LG 225 Camera phone with one year card and DMFL for $100. This includes 400 minutes which will end up 800 minutes with DMFL.
Tracfone has the least expensive Prepaid-Yearly-Cell which includes a free phone.
LG 600g Net10 Bluetooth Phone