Net10 Prepaid Cell Phone Plans
Net10 Wireless
opened for business 7/5/2005 as a Prepaid Cell Phone Company. Net 10 is a sister company to TracFone Wireless
.

A flat rate of 10 cents per minute is what the Net 10 Cell Phone Plan offers. Anywhere the cell phone works it is ten cents a minute. There are no long distance and no roaming charges.
There are two parts to the Net 10 pay as you go Cell phone system.
You need to have Access to the system and you have to have Minutes left on your phone. To activate your Net Ten phone check this link.
Access to the phone network
Every time you buy minutes you get access to the network for a specific period. Currently with the $30/300 minute card you get 60 days of access.
****If you buy and install three 300 minute cards at one time you will get 180 days of access*****.
If you lose your phone with 1200 minutes on it you will not get the minutes back from NET 10. I recommend that you only put one card in at a time.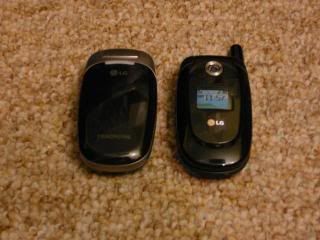 The Tracfone LG 200c on the left and the LG 225 on the right.
The Best deal in Prepaid Cell phones.
Compare Prepaid Cell Phones.com rates NET 10 the best for these reasons.
***Rates, Between 7.5 cents and 10 cents a minute. These are the best rates in PAYG cell phone usage.
***Monthly Unlimited minutes, texts, data for $50 per month
***Monthly $25 Plan for 750 minutes and thirty days of service.
***Service, Your Net Ten
phone will work in more areas than any other prepaid phone because it will work on more Cellular networks. If it is a GSM phone it will roam onto the At&t and T-Mobile and many other small networks. If it is a CDMA phone it will roam from Verizon to Alltel to US Cellular.
***Roaming, Net10 allows you to roam from network to network and you do not pay extra. Net Ten and Tracfone are the only prepaid cell phones that do not charge extra for roaming. Most Prepaid phones do not allow roaming at all.
***Availability Net 10 is available anywhere in the United States that Verizon, Alltel, At&t, T-Mobile, or US Cellular work.
***Simplicity, You can buy cards for NET10 almost anywhere. Install a card and use your phone.Check out Net10's latest phone specials! Offers start at $29.99.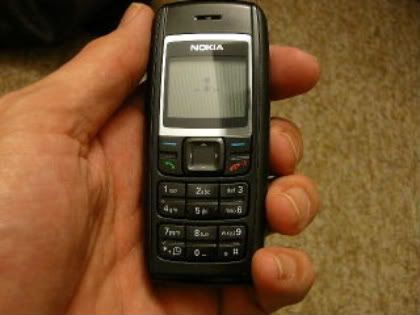 Net10 Nokia 1600
Rollover Minutes on Net 10
As long as you do not let your access expire your NET Ten Minutes
will roll over.
If you let your Net10 Phone Serice
expire your minutes will expire. Currently every 60 days you need to put a minimium of $30 ($15 per month) to keep your service active. At the current time they do not have any bonus minute deals.
Do Not Let Your NET 10 Access Expire
Net Ten Wireless
Cellular will penalize you if you do not keep your service active. You will lose your Phone Number and Leftover minutes if your access expires.
Where to get the Best Deal on Net Ten Phones?
Net 10 Prepaid Cell Phones are available at many major stores like K-Mart, WalMart, Sears or Online. The website " Net Ten No Contract Cell Phones!"
normally has a much better selection of Phones and you can only buy Refurbished Net Ten Wireless Cell Phones from the website.
Where should I buy Net 10 Wireless Minutes?
Net 10 Minutes are available at many Convenience stores and most of the major Discount stores like Wal-mart, K-mart, Safeway or online at Net 10 Wireless
.
At this point the minutes cost the same no matter where you buy them--10 Cents. How does the Net 10 Prepaid Cell Phone Plan Work?
The Net 10 Prepaid Cell Phone Plan is the BEST. Net 10 Prepaid Cell phone Plans from Wal-mart, K-mart, are One of the Best Pay as You Go Prepaid plans.
***** Net 10 Links *****
How does the Net Ten Prepaid Cell Phone Plan Work?
The Net10 Prepaid Cell Phone Plan is the BEST. Net 10 Prepaid Cell phone Plans from Walmart, Kmart, are One of the Best Pay as You Go Prepaid plans.
The New Net 10-Special-Deal on Cell Phones
The Latest Net 10-Special-Deal is from $10 to $40 off the Regular Low Cellular Phone prices. Wireless Prepaid Phones From Net 10 for $20 with 300 Free Minutes included.


Get a Net-10-Free-Phone
Net-10-Free-Phone. Order a Nokia 1100 for $30 and get 300 minutes and 60 days access Free. This is the best Prepaid Cell Phone Deal.


Net10 Camera Phone Now Available
Should you Buy the Net 10 camera phone. Is it the best New Net 10 Phone. How much does it cost to send a Pictute on Net 10?


Net10-Prepaid-Cell Phones Come with 300 Free Minutes.
Net-10-Prepaid-Cell Phones with Ten Cents per minute is the BEST Pay as you go Prepaid Cell phone Deal.


Lost-or-Stolen-Net10-Cell-Phone?
Lost-or-Stolen-Net 10-Cell-Phone. What to do if your Prepaid Net 10 Cellular Phone is Stolen. Can I get my Pay as you go Minutes Back from Net Ten?


Net10-minutes for Your Cellular Phone at Compare-Prepaid-Cell-Phones.com
Tricks to saving Net 10-Minutes and Days of Service on your Net 10 Cellular Plan. How to get the most Pay as you go access from your Net 10 Wireless Cell Phone Plan.


Net-ten Prepaid Cell Phone Activate and Enjoy
The Best Net-ten Quick and easy Activation for 10 Cents per Minute All the time Anywhere!!


How to Solve Net 10-Wireless Problems!
How to Solve Net10-Wireless Problems. Net 10 is the best Prepaid Cell phone Deal and I will show you how to Solve Net 10 Prepaid Problems.


How to set up My Net 10 Voice Mail
How to Set up your Net 10 Voice Mail. Can I set it up from a landline?



The latest LG 225 is now available from both Tracfone and Net 10.
Check out the New NET10 LG 225 Pay as you go Cell phone. The first Clamshell Camera Phone is now available.


Check out the Latest Motorola W370 Tracfone/Net 10 phone.
Check out the New NET10 Motorola W370 Payg Cellular phone. This little brother to the Moto Razr is one of the nicest NET10 Prepaid phones now available.