Motorola W375 Menu Keys
The Motorola W375 Menu and Keys are simply laid out and easy to use. This page will explain the location of the different keys. This new phone from Net10/Tracfone
is the nicest phone they have offered yet.

The Main Menu Key is the round Center button that has the 4-Way Key surrounding it.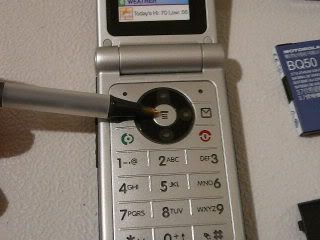 The Main Menu Key
The 4-Way Key is also called the Navigation Key and is used to move around the menus.

The End/Power Key is the Red button to the right and below the round 4-Way Key. This is also the Power Key, used to turn on and off the phone. Hold the key down for 5 seconds to either turn on or turn off your phone. This key also returns you to the main menu from anywhere in the menu.
The Send/Answer Key is Green and to the left and below the 4-Way Key. Enter the phone number you want to call and then push this button. This button will answer a call if you push it while your phone is ringing.

The Left and Right Soft Keys are directly below the screen and do what is written on the screen above them.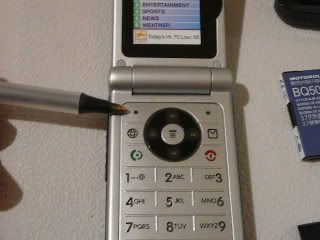 The Volume Control Keys are on the side of the phone and are still exposed while the phone is folded.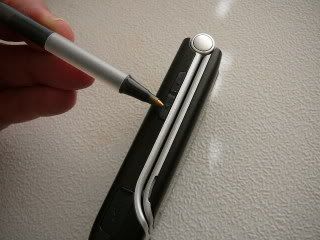 The Volume Control Keys will adjust the volume of your ringer if you push them while the phone is open. If you push them while the phone is closed they do not adjust the volume.
If your phone is ringing and you push either up or down Volume contol button it will silence your ringer.
The Web Browser key is the little globe key directly to the left of the 4-Way Navigation Key. This key will take you to the internet. The Tracfone/Net10 web browser is still really slow and primitive. You will be charged a minute for activating and .5 minutes per minute during the time you use your browser.
The Message Key is directly to the right of the 4-Way Key with the little envelope on it.
Get a Motorola phone + 300 minutes for just $49.99. From Net10 Save $40!
Currently the Motorola W375 is between $60 and $80 at the website but it include 300 free minutes when you activate your phone.
Link from Motorola W375 Menu to Net10.com
The New Motorola W375 From Net10
The New Motorola W375 is now available from NET10 with Pay as you Go Minutes for 10 Cents.

Motorola W375 Users Guide and Faqs
The Motorola W375 Users Guide and Faqs from Compare Prepaid Cell phones. Learn to easily use your new W375.

Motorola W375 Menu Keys
Motorola W375 Menu Keys, How the Net10 W375 Menu Keys work.

Motorola W375 Activation and Assembly
Motorola W375 Activation and Assembly, Quickly get your Net10 W375 activated and working.