How Does 7-Eleven-Speak-Out Cell Phone Service Work
The 7-Eleven-Speak-Out Cell Phone service works quite simply.
Purchase the phone for $50 to $110 after a $50 rebate. They have recently started offering a Camera phone.
The Speak Out Prepaid Phones are pre-charged and pre-programed and ready to use right out of the box. 50 minutes are included ($7.50 @ 15 cents per minute) with purchase of the phone. The Rate on minutes has now dropped to 15 cents a minute on any size purchase.
Speak out Prepaid Cards

are only available at 7-Eleven (7-11) stores. The phone cards come in $25, $50, $75, $100 denominations.
7-11 Speak Out Monthly Fee
In many areas there is a $1.25 monthly 911 access fees for cell phones. This will probably be deducted from your balance monthly.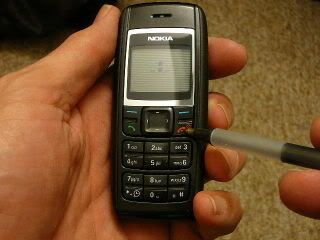 Nokia 1600 GSM Phone

7-Eleven-Speak-Out Unlimited Nights and Weekends
A new Prepaid phone plan from 7-Eleven (Seven-11)is their Unlimited Nights and weekends. For $40 you can get 200 anytime minutes and unlimited nights and weekends on your SpeakOut phone for one month. If you need more anytime minutes you can purchase them for $5 for 50 more minutes.
This can be a good deal. You are paying 20 cents each for the anytime minutes and getting the nights and weekends free. it is real easy to go through the 200 anytime minutes.
No Contract required, at the end of the month you can add another $40 card and stick with the Unlimited Nights and Weekends or go back to pay per minute or let your service expire. No penalties for expiration.
Speak Out Phones Available in 4,411 7-Eleven Stores
The phones and Phone cards are available in 4,411 stores in 38 7-Eleven markets which include: Austin, Tx,
Bakersfield, CA,
Baltimore
Boston, MA
Buffalo
Chicago
Chico-Redding, Ca
Dallas-Ft. Worth
Detroit
Fresno-Visalia, Ca
Ft. Meyers-Naples, Fl
Harrisburg-York, Pa
Hartford-New Haven
Kansas City
Las Vegas
Los Angeles-Long Beach, Ca
Miami-Ft. Lauderdale
New York-Long Island, Ny
Orlando-Daytona
Philadelphia
Providence, R.I.-New Bedford, Ma,
Reno, Nev
Sacramento-Stockton, Ca
Salinas-Monterey, CA
Salisbury, Md
San Diego
San Francisco-San Jose
Santa Barbara
Seattle-Tacoma
Springfield, Ma
Spokane, Wa
St. Louis
Tampa-St. Petersburg, FL
Toledo
Waco-Temple-Killeen, TX,
Vancouver, Wa
Washington D.C.
Yakima-Tri-Cities, WA

link from 7-Eleven-Speak-Out to Compare Prepaid Cell Phone Home
The 7-Eleven (7-11) Speak out Review
The advantages to the Speakout program are it is really convenient if you live close to a 7-Eleven. You do not need to program the phone, it is ready to go. Buy it, put the battery in and start talking. The $40 Free nights and weekends can be a good deal. If you talk a lot nights and weekends and you do not want a contract phone it is simple. Also extra minutes on this plan are cheaper than most overages on a contract plan.
Cricket and Jump are a Better deals
For $35 Cricket offers Unlimited "Anytime Minutes". If Cricket is available in your area I do not recommend the 7-Eleven deal.
Net10 Prepaid Cell Phone
Instead of the new lower 7-Eleven-Speak-Out rate of 15 cents a minute Net10 minutes are 10 cents all the time. If you have a Net10 phone you can probably get minute cards for it at the 7-11 also. If you spend more than $10 a month on your Speak Out phone you will save money by using a NET10 phone.
Net10 currently has the best Pay as you Go cell phone per minute rate.

Check out the New Easy Minutes and get Net10 rates as low as 7.5 cents a minute.


Search My Website or the Web